The Race
After a successful inaugural event on August 5th The Gravel Guys are proud to present the West Carleton Gravel Series Double Header Weekend on Sept 8th and 9th: Two back-to-back 87km and 90km cyclosportifs on primarily gravel roads around the picturesque landscape of West Carleton (Ottawa)
As the local gravel road gurus, we've chosen the safest and most scenic routes possible that will challenge the most competitive and adventurous alike. The gravel roads of West Carleton are in excellent shape and most of the course can be ridden on 28mm tires. It's only the short 300m Needhams Side Road unmaintained Road Climb where 32mm+ tires come in handy. The race headquarters are located at the Kinburn Community Centre which has ample parking and facilities. After short neutralized sections, the events will begin, starting strategically in places where the more competitive riders can separate themselves and the adventure riders can ride at their own pace.
The events will be accompanied by a small event caravan equipped with floor pumps, water, and an assortment of gels. At approximately 2/3 completion, there'll be a refuelling station for those wanting to rest for a bit. The course will be marked with highly visible red arrows and the lead vehicles will provide rolling marshalling at strategic turns and crossings.
The two-day standings will be decided by a points system as shown. The tiebreaker will be the highest placing in one of the two events. Euro-Sports Ottawa has generously donated $500 to the overall prize purse (top 5 finishers) and 100% of women's entry fees will be put towards the Open Women's prize purse (top 3 finishers).
It is NOT required to compete in both races. Points will stand regardless of whether you participate in one or both events.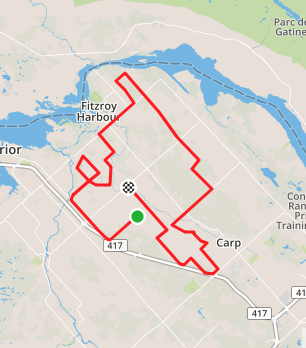 September 8th - Neutral start leaves at 9am
1. 86km +500m of rolling mixed surface terrain including a 700m unmaintained climb at km 45
2. Strava route can be found here: https://www.strava.com/routes/13001606
3. Click HERE for Technical Guide
4. Click Here for GPX file (compatible with most GPS devices)
5. To participate, rider must have a valid UCI approved license, Domestic license or Citizen's permit
September 9th - Neutral start leaves at 9am
1. 86.0km +400m of rolling mixed surface terrain including a 700m unmaintained climb at km 45
2. Strava route can be found here: https://www.strava.com/routes/15350191
3. Click HERE for Technical Guide
4. Click HERE for GPX file (Compatible with most GPS devices)
5. To participate, rider must have a valid UCI approved license, Domestic license or Citizen's permit
Getting to the Start Line
The Kinburn Community Center is located at 3045 Kinburn Side Rd, Kinburn, ON K0A 2H0, 30 minutes west of Ottawa, Ontario
Distance From
Toronto: 387 km Montreal: 355 km Kingston: 157 km
East Burke, VT: 300 miles Syracuse, NY: 200 miles Wilmington, NY: 186 miles